Landmark climate change case
The Adani's Carmichael $16 billion coal mine has passed another legal hurdle in Federal Court, after the Australian Conservation Foundation (ACF) project was thrown out (Briggs, 2016). Roche told reporter Briggs (2016), that the Carmichael coal mine would help make jobs for "Queenlanders."
 Photo by: Peter Braig, (Aap, 2016).
At stake is what's best for the people of Australia. Continuing the mining is good news for people's jobs and the economy, but could be costly in the end for the Great Barrier Reef (GBR).
In 2017, the Carmichael mine plans to start construction and "start production by 2019-2020, mining about 25 million tonnes of coal annually…" said by an anonymous company official (Pathak, 2016). Kelly O'Shanassy, ACF's chief executive, stated that the Carmichael mine will "create 4.7 billion tonnes of climate pollution over the proposed life of the mine…" (Hannam, 2016).  I think that every mine that is created has some environmental impact no matter how small or large the impact is. There will always be some effect when humans change the landscape. According to the Hannam, the Carmichael would create as much carbon dioxide annually as New Zealand.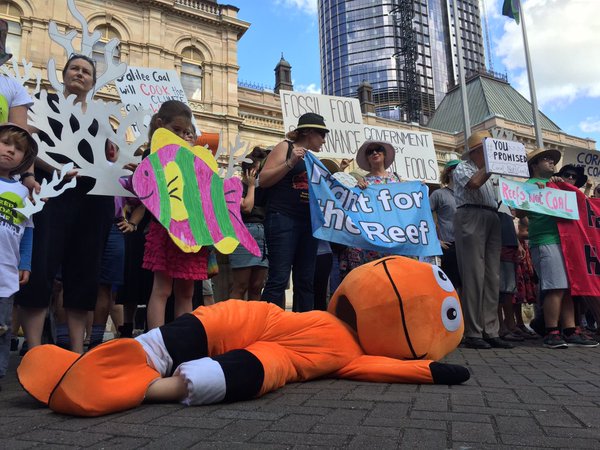 This photo was posted on Twitter by Stefan on August 29, 2016,  @StefanArmbruster (Hannam, 2016).
Using cold media like Twitter and Facebook are good ways to start a discussion and make aware of the GBR situation. Where as using hot media by showing photos or sitting in a lecture talking about the GBR, might be less effective.
This is frustrating to hear after Australia was in the process of reducing their pollution output. I believe that this coal mine will be a major threat to the GBR because of how much climate pollution will be produced from the mines.
Here's a short report on how the Great Barrier Reef is affected by bleaching.
Approval for a mega coal mine in Queensland's Galilee Basin is not in line with the government's obligation to protect the GBR. The reef is already highly impacted by humans. Coral bleaching is at an all time high and large percentage of corals have been lost altogether (Hannam, 2016). Grech, Pressey, and Day (2016), feel that "the future of the Great Barrier Reef depends on transformational change in the cumulative assessment of Australian coal mines." 
Sources used:
Aap 2016, 'Adani Carmichael mine clears another legal hurdle', The Sydney Morning Herald, 19 August, viewed 6 September 2016, http://www.smh.com.au/business/mining-and-resources/adani-carmichael-mine-clears-another-legal-hurdle-20160819-gqwmtj.html
Briggs, C 2016, 'Conservation Foundation's case against Adani mine dismissed', ABCNet.au, 29 August, viewed 5 September 2016, http://www.abc.net.au/news/2016-08-29/adani-carmichael-mine-court-dismisses-acf-case/7795192
Grech, A, Pressey, R, & Day, J 2016, 'Coal, Cumulative Impacts, and the Great Barrier Reef', Conservation Letters, 9, 3, pp. 200-207, Academic Search Complete, EBSCOhost, viewed 19 September 2016.
Hannam, P 2016, 'Australian Conservation Foundation loses Federal Court case on Adani coal,' The Sydney Morning Herald, 29 August, viewed 5 September 2016, http://www.smh.com.au/environment/climate-change/australian-conservation-foundation-loses-federal-court-case-on-adani-coal-20160828-gr3au2.html
Pathak, M 2016, 'Australian court upholds approval for Adani's Carmichael mine project,' LiveMint, 29 August, viewed September 06, 2016, http://www.livemint.com/Companies/reOaA2eUXZnXPIlAAjmsrM/Gautam-Adanis-Carmichael-mine-project-upheld-by-Australian.html